Since 1962, St. Bartholomew School, (known today as John Paul II Catholic School) has been educating children from the neighborhoods in and surrounding Springfield Township. Since the original consolidation in 1980, under the former name of St. Bartholomew Consolidated School, JPII is among the first and longest consolidated school in the Archdiocese of Cincinnati. In 2006, St. Bartholomew Consolidated School welcomed new parishes into the consolidation and changed the school's name to John Paul II Catholic School. JPII is supported by four parishes: St. Bartholomew, St. Clare, St. James, and Our Lady of the Rosary. It is governed by the school administration, affiliated parishes and a School Board with appointed members representing all stakeholders. John Paul II Catholic School is committed to following in the footsteps of St. John Paul II by making our school a place where all students, parents, and staff are welcomed, become part of our family, and immersed in the long tradition of Catholic academic excellence. JPII is a fully accredited Catholic elementary school serving students in preschool through eighth grade. JPII has 415 students enrolled as of February, 2023.

Through the years, JPII has continued to expand the educational opportunities that meet the needs of the students in all grades. The administration, teachers, and staff are committed to educating the whole child, spiritually, physically, emotionally, and intellectually in a Catholic-centered environment. In a cooperative effort with parents, the individual abilities and God given talents of each student is challenged and nurtured. We offer an enrichment program, a full-time school nurse, counseling, speech and language therapist, Title 1 Reading instruction, teachers trained in Orton Gillingham, and intervention services.
This commitment to all learners has numerous benefits for all. It enables each child to grow in his/her relationship with God and others, to engage in hands-on experiences necessary to gain mastery of content material, and to develop effective work habits and leadership skills. Students can advance grade levels for math, engage in STEM activities through our enrichment program, be immersed in the Spanish language and culture, and be given accommodations as needed from a support team. The support team consists of the classroom teachers, speech pathologist, intervention specialists, school nurse, school counselor, and a partnership with Ohio Valley Voices and Hamilton County Educational Service Center for hearing support, occupational therapy, vision and mobility.
JPII offers many extra curricula activities as well: liturgical ministry, choir, band, drama, Power of the Pen, a philanthropy program, and athletics. Through a myriad of opportunities and individual attention, our students are successful and well prepared for the rigor of high school.
It is our commitment to provide a well-rounded education for your children, but more importantly, it is our mission to continue the work you parents have begun by instilling in your children Catholic values and attitudes. "Jesus is the reason for this school. He is the ever-present teacher in all its classes, the model of its faculty, and the inspiration for its students." This message is lived in all of the classrooms and halls of JPII Catholic School.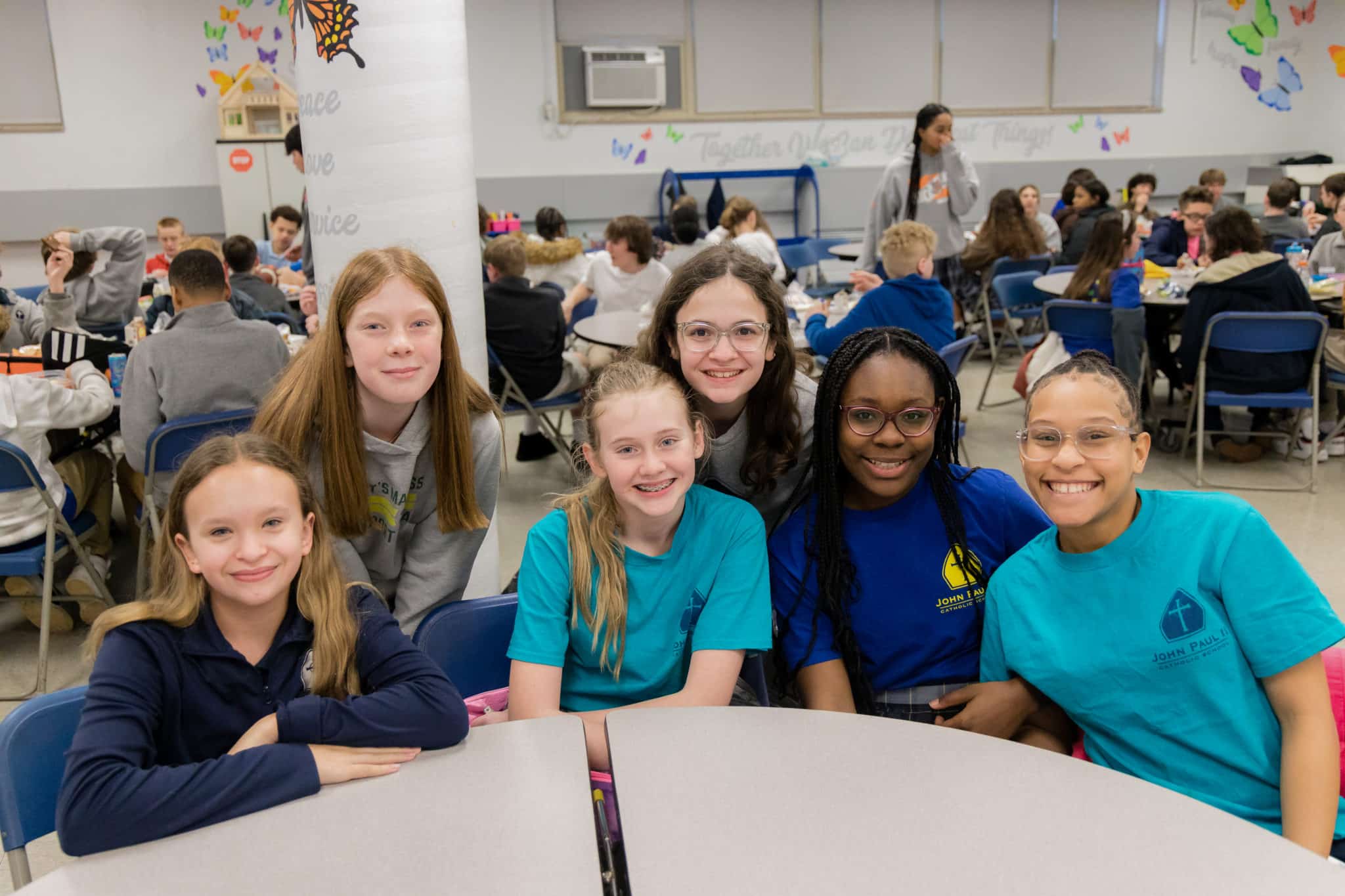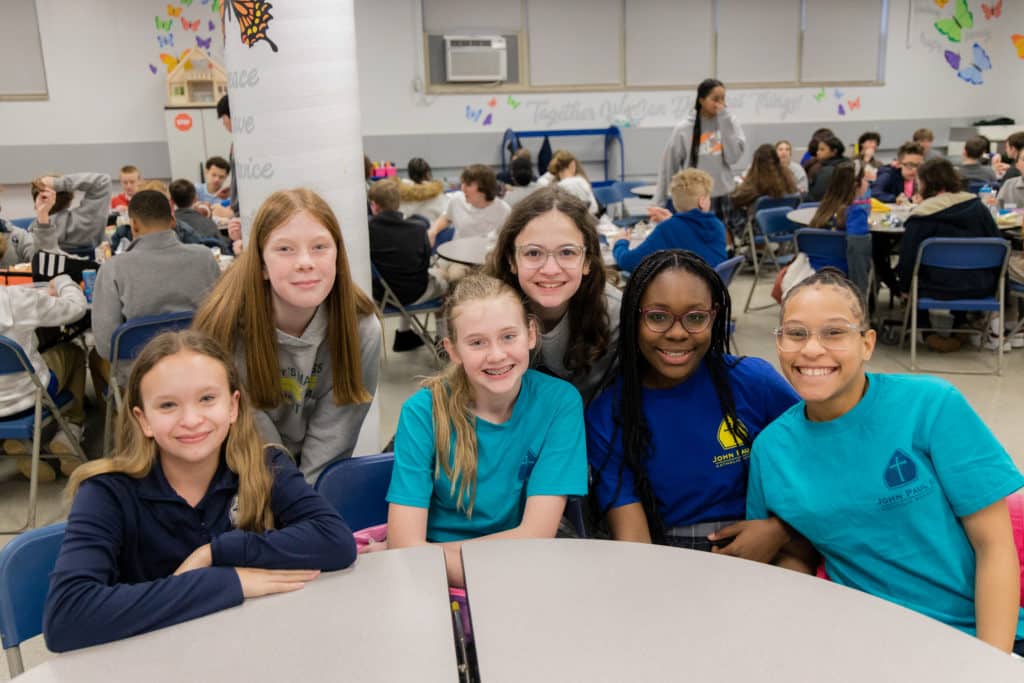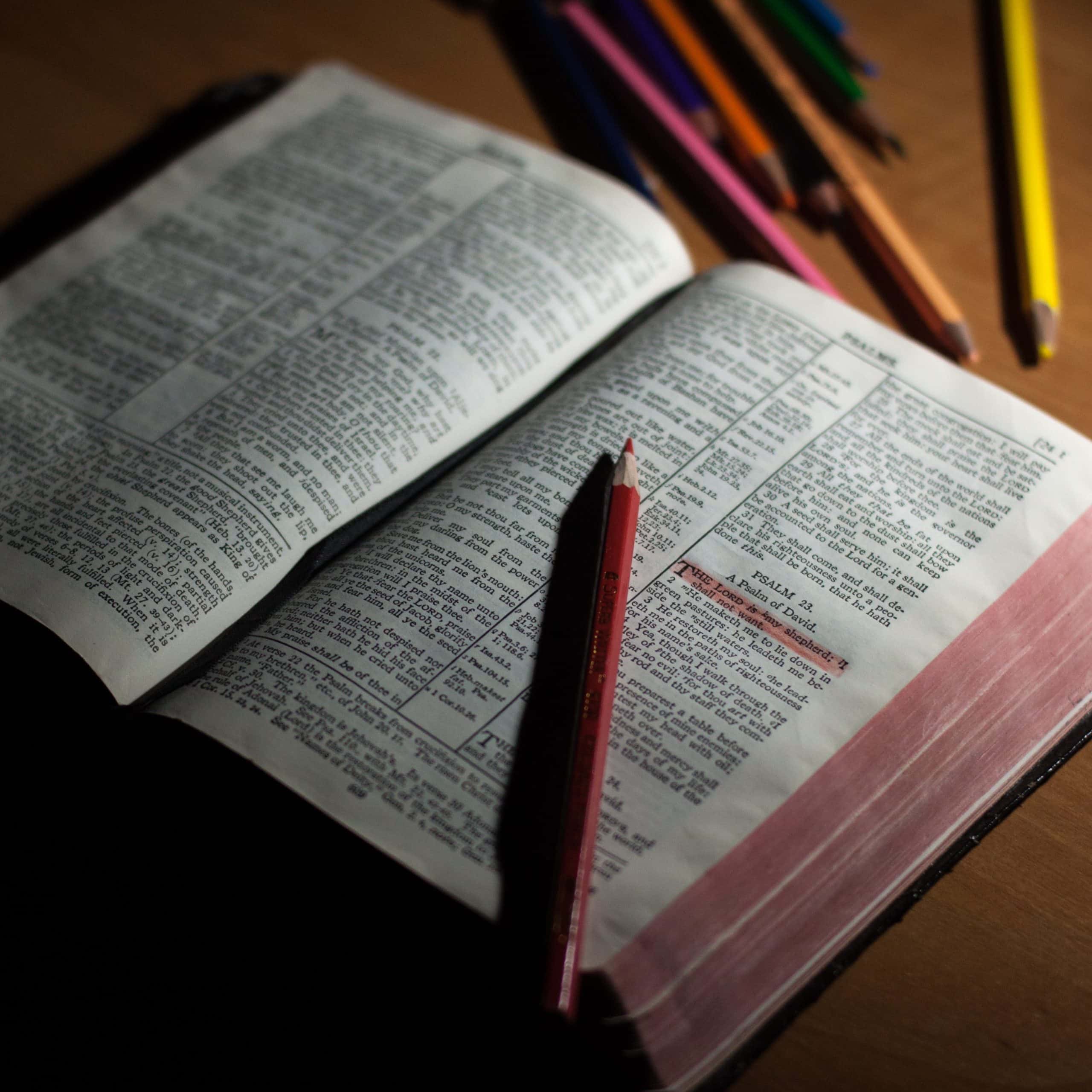 JPIICS in partnership with the parents, its affiliated parishes, and its local communities is committed to Gospel values incorporated throughout its strong academic program which is student-need based.
We nurture the spiritual, intellectual, physical, emotional, and social development of all our students and empower them to become valuable, caring, and contributing members of their families, churches, school, communities, and society. Prayer is integral to advancing this mission.
We believe that each student is a valued individual with unique spiritual, physical, social, emotional, and intellectual needs and talents.
We believe that all students can learn.
We believe that all aspects of student learning are the focus of our school.
We believe that students need to be owners of their learning and believe in their own ability to complete tasks and reach goals.
We believe that students learn best when they are actively engaged in the learning process, supported by the entire school community, through an ongoing assessment program to effectively meet the changing needs of the students.
We believe that a commitment to continuous improvement is imperative if our school is going to continue to enable students to become confident, self-directed, lifelong learners.
We believe that the students, parents, teachers, administrators, and community share in the responsibility for advancing the school's mission.
Check out some of these pages to learn more about our school!
Spiritual Formation
Learn about how we build our education around building the Catholic faith.
Activities & Enrichment
Learn about our diverse collection of activities and enrichment program.